Butt Weld Tee
Section Links : Equal Tee | Unequal Tee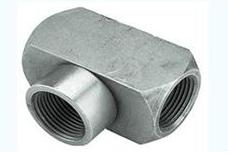 Pipe Tee is a type of pipe fitting which is T-shaped having two outlets, at 90° to the connection to the main line. It is a short piece of pipe with a lateral outlet. Pipe Tee is used to connect pipelines with a pipe at a right angle with the line. Pipe Tees are widely used as pipe fittings. They are made of various materials and available in various sizes and finishes. Pipe tees are extensively used in pipeline networks to transport two-phase fluid mixtures.
Riddhi Impex manufactures a wide range of tees (pipefitting) made of exotic metals, nickel, nickel alloys, Stainless Steel etc., of various grades. Tees (branch outlets) are manufactured as Equal tees and Reducing tees. Equal tees are exactly that, all three ends are of the same size. Reducing tees come with a combination of different outlet sizes.
Riddhi Impex manufactures & supplies high quality tees ( pipe fitting ) that can be used for various applications. Our tees are tested and verified for durability, accuracy and precision.
Riddhi Impex manufactures forged [ socket weld tee, forged threaded tees ], seamless & weldedtees of types equal tee, reducing tees to ANSI B 16.5 from classes 2000 to 9000 and Schedules from 10 to 160 .
Riddhi Impex manufactures tees accordance with BS standard from classes 2000 to 9000 lbs, Schedule 10 to 160 .
Riddhi Impex designs & manufactures tees (pipe fittings) of special type made according to drawing on request.
Size : 1/2"NB TO 48"NB IN

Schedule : SCH20, SCH30, SCH40, STD, SCH80, XS, SCH60, SCH80, SCH120, SCH140, SCH160, XXS

Type : Seamless / ERW / Welded / Fabricated

Form : Equal Tee, Reducing Tee, Barred Tee , Lateral Tee

Materials
Stainless Steel Tee – SS Tee
ASTM A403 WP Gr. 304, 304H, 309, 310, 316, 316L, 317L, 321, 347, 904L

Carbon Steel Tee – CS Tee
ASTM A 234 WPB , WPBW, WPHY 42, WPHY 46, WPHY 52, WPH 60, WPHY 65 & WPHY 70.

Low Temperature Carbon Steel Tee – LTCS Tee
ASTM A420 WPL3 / A420WPL6

Alloy Steel Tee – AS Tee
ASTM / ASME A/SA 234 Gr. WP 1, WP 5, WP 9, WP 11, WP 12, WP 22, WP 91

Duplex Steel Tee
ASTM A 815 UNS NO S 31803 , S 32205.

Nickel Alloy Tee
Standard
ASTM / ASME SB 336
UNS 10276 (HASTELLOY C 276 Tee)
UNS 2200 (NICKEL 200 Tee),
UNS 2201 (NICKEL 201 Tee),
UNS 4400 (MONEL 400 Tee),
UNS 8020 (ALLOY 20 / 20 Tee),
UNS 8825 INCONEL (825 Tee),
UNS 6600 (INCONEL 600 Tee),
UNS 6601 (INCONEL 601 Tee),
UNS 6625 (INCONEL 625 Tee),
Value Added Services
Hot Dip Galvanizing
Epoxy Coating
Electro polish
Tags :
Equal Tee Reducing Tee Barred Tee

Test Certificate
Mill Test Certificate as per EN 10204 / 3.1B