Forged Plug And Bushing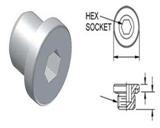 Pipe plugs are defined as cap end of fractional tubes used in a large number of industries. These pipe plugs are designed to insert into the end of tubing to dead-end the flow. Various materials are used to manufacture high quality tube plugs in a variety of end connections.
These pipe plugs come in one piece body design and the easy to replace plug assembly make these industrial pipe fittings very easy to maintain and clean. The pipe plugs are an easy and cost effective way to plug your pipe. These pipe plugs are often plated with chrome or nickel for a superior finish and better resistance to corrosion.

Riddhi Impex manufactures a wide range of plugs & bushings(pipefitting) made of exotic metals, nickel, cupro-nickel, Stainless Steel etc., of various grades and dimensions. Steel Tubes India manufacture & supplies high quality plug and bushings(pipefittings) that can be used for various applications and are available in a variety of styles, sizes, and configurations so as to match your specific job requirements.

Plugs(pipe fitting) are designed to provide a quick and simple means to perform a variety of jobs such as stopping flow in a pipeline (for maintenance or repair), down stream pipeline acceptance testing, or to stop flow so that infiltration of a section can be measured etc.

Riddhi Impex manufactures forged plug and bushing (pipe fittings) to ANSI & BS standard from Classes 2000 lbs to 9000 lbs.

Riddhi Impex designs & manufactures plug & bushings (pipe fitting) of special type made according to drawing on request.
PLUG & BUSHING ( Square Head, Hexagonal , Round Headed )

Forged Plug, Bushing:

Square head Plug
Hexagonal head Plug
Round head Plug
Haxagonal head Bushing
Round head Bushing
PLUG & BUSHING MATERIAL
STANDARD
CONSTRUCTION
CLASSES IN PLUG & BUSHING
PLUG & BUSHING TYPES
Titanium plug, Tantalum, Nickel , Cupro - nickel, Zirconium, Hastelloy , Incolloy, HR Alloy, Alloy 20, Monel, Inconel, stainless Steel, Niobium, Nimonics ,duplex plug,super duplex bushing

ANSI

BS

FORGED

--

Square head plug,Hexagonal headed plugs,Round head plugs,Hexagonal headed bush,Round headed bushings

BS Square headed plug,Hexagonal head plugs,Round headed plugs,Hexagonal head bush,Round head bushing