Forged End Caps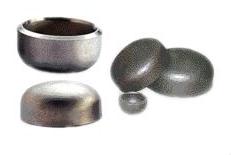 Pipe caps act as protective device and are designed to protect pipe ends of various shapes. The main purpose of using pipe caps is to waterproof the connections. They are also used to close the the ends of hydraulic or pneumatic pipes and tubes. They are used in the plumbing apparatus of domestic, commercial and industrial water supply lines, machinery and processing equipment etc. They are also fitted on water pump lines with the sole purpose of removing air blocks. Pipe caps are highly demanded as an important category of pipe fittings.
Riddhi Impex manufactures a wide range of caps ( pipefitting) made of materials - exotic metals, nickel, cupro-nickel, Stainless Steel etc., of various grades. Riddhi Impex manufactures & supplies high quality cap (pipe fitting) that can be used for various applications. Our caps(pipefittings) are tested and verified for durability, accuracy and precision.
Riddhi Impex manufactures forged & seamless caps(pipefitting) of types including socket weld cap, threaded cap to ANSI B 16.5 from classes 2000 to 9000 and Schedules from 10 to 160 .
Riddhi Impex manufacture forged socketweld & threaded caps, seamless cap accordance with BS standard from classes 2000 to 9000 lbs, Schedule 10 to 160 .
Riddhi Impex also design & manufacture caps (pipe fittings) of special types made according to drawing on request.
Material: A234-WPB A234-WP12 A234-WP11 A234-WP5 A403-WP304 A403-WP304L A403-WP316. A403-WP316L A420-WPL6,316L, 304L, 321, 321H.
Special alloys: cooper nickel, Ni-based, Cu-based, Co-based, Fe-based
Size: 1/2" - 24"
Manufacturing standard: ASME/ANSI B16.9, JIS, DIN, EN, API 5L, etc.
Surface treatment:Shot blasted, rust-proof black oil
CAP - ( socket weld caps, threaded caps )
Forged Caps:

Socket weld cap
Threaded caps

Seamless Caps:

Socket weld caps
Threaded cap


Cap (Pipe Fitting)- Material

Standard

Construction

Classes in Caps

Caps Types

Titanium cap, Tantalum, Nickel , Cupro - nickel, Zirconium, Hastelloy , Incolloy, HR Alloy, Alloy 20 cap, Monel, Inconel, stainless Steel, Niobium, Nimonics,duplex cap,super duplex caps

ANSI, BS

Forged

2000 lbs, 3000 lbs, 6000 lbs,9000 lbs

Socket weld cap, Threaded cap

Seamless

S5s, S10, S20, S40, STD, S80,XS, S 160, XXS

--
INCHES

METRIC

N.B.

O.D. at Bevel

E

Limit W.T. For Length E

E1

N.B..

O.D. At Bevel

E

Limit W.T. For Length E

E1

1
-
2

0.84

1

0.15

1

15

21.34

25.4

3.73

25.4

3
-
4

1.05

1

0.15

1

20

26.67

25.4

3.91

25.4

1

1.32

1 1/2

0.18

1 1/2

25

33.4

38.1

4.55

38.1

1 1/4

1.66

1 1/2

0.19

1 1/2

32

42.16

38.1

4.85

38.1

1 1/2

1.9

1 1/2

0.2

1 1/2

40

48.26

38.1

5.08

38.1

2

2.38

1 1/2

0.22

1 3/4

50

60.33

38.1

5.54

44.45

2 1/2

2.88

1 1/2

0.28

2

65

73.03

38.1

7.01

50.8

3

3.5

2

0.3

2 1/2

80

88.9

50.8

7.62

63.5

3 1/2

4

2 1/2

0.32

3

90

101.6

63.5

8.08

76.2

4

4.5

2 1/2

0.34

3

100

114.3

63.5

8.56

76.2

5

5.56

3

0.38

3 1/2

125

141.3

76.2

9.53

88.9
| | | | | | | | | | |
| --- | --- | --- | --- | --- | --- | --- | --- | --- | --- |
| 6 | 6.63 | 3 1/2 | 0.43 | 4 | 150 | 168.28 | 88.9 | 10.97 | 101.6 |
| 8 | 8.63 | 4 | 0.5 | 5 | 200 | 219.08 | 101.6 | 12.7 | 127 |
| 10 | 10.75 | 5 | 0.5 | 6 | 250 | 273.05 | 127 | 12.7 | 152.4 |
| 12 | 12.75 | 6 | 0.5 | 7 | 300 | 323.85 | 152.4 | 12.7 | 177.8 |
| 14 | 14 | 6 1/2 | 0.5 | 7 1/2 | 350 | 355.6 | 165.1 | 12.7 | 190.5 |
| 16 | 16 | 7 | 0.5 | 8 | 400 | 406.4 | 177.8 | 12.7 | 203.2 |
| 18 | 18 | 8 | 0.5 | 9 | 450 | 457.2 | 203.2 | 12.7 | 228.6 |
| 20 | 20 | 9 | 0.5 | 10 | 500 | 508 | 228.6 | 12.7 | 254 |
| 22 | 22 | 10 | 0.5 | 10 | 550 | 558.8 | 254 | 12.7 | 254 |
| 24 | 24 | 10 1/2 | 0.5 | 12 | 600 | 609.6 | 266.7 | 12.7 | 304.8 |
| 26 | 26 | 10 1/2 | - | - | 650 | 660.4 | 266.7 | - | - |
| 28 | 28 | 10 1/2 | - | - | 700 | 711.2 | 266.7 | - | - |
| 30 | 30 | 10 1/2 | - | - | 750 | 762 | 266.7 | - | - |
| 32 | 32 | 10 1/2 | - | - | 800 | 812.8 | 266.7 | - | - |
| 34 | 34 | 10 1/2 | - | - | 850 | 863.6 | 266.7 | - | - |
| 36 | 36 | 10 1/2 | - | - | 900 | 914.4 | 266.7 | - | - |
| 38 | 38 | 12 | - | - | 950 | 965.2 | 304.8 | - | - |
| 40 | 40 | 12 | - | - | 1000 | 1016 | 304.8 | - | - |
| 42 | 42 | 12 | - | - | 1050 | 1066.8 | 304.8 | - | - |
| | | | | | | | | | |
| --- | --- | --- | --- | --- | --- | --- | --- | --- | --- |
| 44 | 44 | 13 1/2 | - | - | 1100 | 1117.6 | 342.9 | - | - |
| 46 | 46 | 13 1/2 | - | - | 1150 | 1168.4 | 342.9 | - | - |
| 48 | 48 | 13 1/2 | - | - | 1200 | 1219.2 | 342.9 | - | - |